Richard Slipp
Tutor
Contact
Education
B.A. (University of Calgary)
M.A. (University of Calgary)
Biography
Richard Slipp was born and raised in Alberta. He studied at the Universities of Calgary and Freiburg (Germany), and holds a BA in English (1992) and an MA in German (1996). Before joining Athabasca University and the University of Calgary in 2005, Richard taught at various private institutions in Dublin, Ireland , and at universities in Leipzig and Jena, Germany. He is currently completing a PhD in German literature through a co-tutelle agreement between the Universities of Calgary and Giessen (Germany).
Richard has presented papers at international conferences on topics related to his doctoral dissertation, i.e., narrative strategies and memory in the works of East German writer, Christoph Hein. His activities as an academic translator include, most recently, two chapters in the forthcoming Brill Companion to German Pietism by Douglas Shantz (ed.).
Richard currently tutors German 202, 203, and 302, and was previously a Tutor for German 306 and an Academic Expert for Administration 233.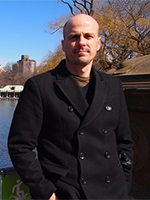 Tutors
Updated September 16 2014 by Student & Academic Services